The Homeboys VBC is based in Austin and was formed by Allen Bowie. The official name is now Homeboyz Volleyball Club.
Since the creation of this page back in 1996 (!), Bowie has gotten fancy on us and registered a domain name of his own! Find them online at http://homeboyzvolleyball.com
The rest of the page remains here for historical purposes, and well, because I'm just too lazy to delete it. :-)
Back in 96 at least, the club consisted of 2 teams which competed in USA Volleyball ( Lone Star Region)-sanctioned tournaments throughout the September to May USAV season.
All USAV tournaments are held on Saturdays and last from 7:30am to ??? (depending upon how well you do in the tournament--most are over by 6pm). The club routinely participates in all Austin, San Antonio and Lockhart tournaments, and occasionally travels to tournaments in Houston.
During the October to April season, practices are held every Thursday night starting at 7:30pm in a spacious, well-equipped gym near downtown Austin. Practices are led by Allen Bowie and consist of numerous drills in addition to scrimmages later in the evening.
During the 1996-97 season, the Homeboys2 team has done very well, winning two tournament and taking a solid first place in the Austin Rec. Center BB Fall men's league.
Archive Information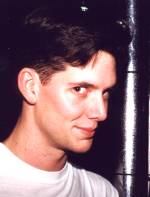 "So who's gonna be Back Row John this game?"
---
Copyright 1996 Todd Haverkos. Duplication of this content is expressly prohibited without written consent of the author. Not that he imagines anyone would want to duplicate this content. I mean, really?